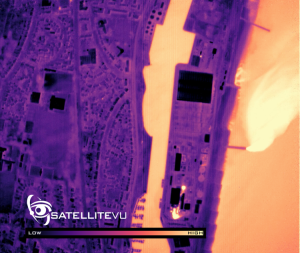 The UK company's stated aim is to monitor the temperature of any building on the planet in near real-time using mid-wave infrared (MWIR) imaging.
Specifically, following this agreement, it will be using Orbit Logic's CPAW (Collection Planning & Analysis Workstation) and Order Logic software products, configured for the its constellation.
According to the companies, these will generate operational-fidelity imaging schedules and related downlink plans for use in pre-launch constellation design, analysis, and on-orbit operations. CPAW-generated plans are output for command generation and to Order Logic for plan inspection and 3D visualisation and animation.
"We are excited to be a part of the Satellite Vu team that is developing such an innovative, space-based thermal data solution to help build a more sustainable world." said Alex Herz, president of Orbit Logic.
Landmark
Recently, London-based Satellite Vu struck a deal, with land and property data specialists Landmark Information, to provide climate change data to the UK property market.
It will provide geospatial information, relating to the thermal efficiency of buildings, to the UK real estate market.
Satellite Vu's initial satellite will be the first of a planned constellation of seven and it is due to be launched into low earth orbit (LEO) in "early 2023", aboard a SpaceX Falcon 9 rocket. It is currently being manufactured in Guildford by Surrey Satellite Technology Limited (SSTL).
Commenting on the Orbit Logic deal, the CEO of Satellite Vu, Anthony Baker, said:
"The space industry is at an exciting stage and our satellites are a part of that, poised to make a significant difference in the fight against climate change by providing governments and businesses with the data they need to identify energy wastage and minimise carbon emissions, as well as contributing to preventing fire spread and reducing water pollution."
See also: Keeping a wide area ICEYE over land and sea