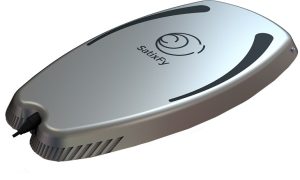 Using its compact fully electronically steered multi-beam multi-orbit antenna terminal, the Farnborough-based company described it as the first ever demonstration of a high-speed, low-latency link with a LEO constellation incorporating 5G.
Note, however, that the U.S. company Kymeta – also a satellite communications company – partnered with Intelsat back in November 2021, to demo satellite-enabled 5G connectivity for mobile comms. Its electronically-steered flat panel antennas support satellite, cellular, and multi-orbit mobile connectivity—from LEO to GEO.
Sunrise
In this case, SatixFy partnered with OneWeb under the ESA Sunrise Partnership Project, with support from the UK Space Agency, to develop its steerable multi-beam array technology suitable for mobility services over both LEO and GEO satellites simultaneously. The terminal can also be integrated into 5G equipment to allow end-to-end access to a LEO constellation network via a 5G signal.
The demonstration involved a user terminal being mounted on a car and performing several satellite and beam handovers, along with frequency hopping over the OneWeb LEO network at 1,200 km. This was while maintaining a simultaneous and continuous link with a GEO satellite at an altitude of 36,000 Km. Live 4K UHDTV video and audio streaming took place from the GEO satellite, said SatixFy.
"This test further validates our products addressing two of our major target markets: electronically-steered multibeam user terminals for mobility and the use of our terminals to address the large space-enabled 5G market," said Simona Gat, SatixFy UK CEO. "It has been a pleasure to work with OneWeb to demonstrate this unique capability."
Northern Sky Research has estimated the value of the market to be $35 billion in revenue for SatCom services by 2030.
"The ground-breaking SatixFy electronically steered array antenna technology will, once in commercial production, enable mobility customers such as airlines, train operators, and coach companies to leverage the power not only of the OneWeb LEO network, but also terrestrial 5G and legacy GEO satellite networks," said the CTO at OneWeb, Massimiliano Ladovaz. "A hybrid, multi-beam, multi constellation solution that ensures that passengers remain connected no matter where they are – be it mid-air, mid-ocean or in the most remote corners of the world."
SatixFy and OneWeb have previously partnered to deliver Wi-Fi on aircraft via low-orbit telecommunications satellites.
Harwell
The UK Space Agency was also eyeing 6G. Dr. Paul Bate, Chief Executive of the UK Space Agency, commented:
"The results of this trial will help transform how satellite and terrestrial networks interact, accelerating the development of technologies such as connected vehicles and autonomous cars. It is a great example of why we're supporting ESA's state-of-the-art 5G/6G hub in Harwell, which will create new commercial opportunities and catalyze investment into the UK's thriving space sector."
Image: SatixFy – Amber, Electronically Steered Multi Beam Antenna
See also: SatixFy, SWISSto12 team up for software-defined satellite payloads