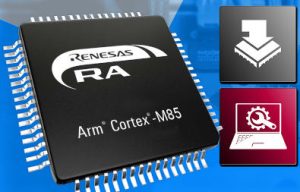 Segger is supporting Arm's latest Cortex-M, the Cortex-M85, with its Embedded Studio IDE, J-Link debug probe, Ozone debugger and emPower OS real-time operating system.
"At Embedded World 2022, Renesas demonstrated the industry's first Arm Cortex-M85-based MCU," said Renesas product manager Andy Beeson. "Thanks to the use of the J-Link debug probes, Renesas was able bring-up the new system and develop an HMI demonstration application based on the Segger emWin." – emWin is an embedded graphics library.
J-Link provides an flash-loaders, RAM download and the ability to set an unlimited number of breakpoints in the flash memory of MCUs. Ozone is a multi-platform debugger and performance analyser for Segger's J-Link and J-Trace.
The IDE has tools for embedded C and C++ programming and development and comes with floating-point libraries, a linker and a Clang-based C/C++ compiler. The RTOS has libraries for communication, security, data compression and data storage, as well as the graphics library for user interfaces.