The academy is an initiative to help tackle the skills and talent shortages in Europe's electronics industry.
The initiative is backed by more than 30 partner research organisations, vocational and education training providers, certification agencies and industry stakeholders.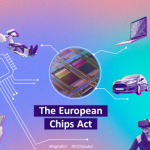 The academy will expand on the Microelectronics Pact for Skills and the EU Chips Act to support the microelectronics ecosystem in Europe to attract new talent.
It will deliver targeted European-wide training in key microelectronics fields such as automotive and additive manufacturing. The grant, provided by the European Commission's Erasmus+ Programme, will fund the academy for four years.
The academy is the second phase of the Microelectronics Training, Industry and Skills (METIS) consortium.
Both initiatives are designed to foster microelectronics industry collaboration with key education, training and certification providers to address the skills shortage and European competitiveness.
"The pan-European alliance guiding the European Chips Skills Academy will leverage the diverse and considerable strengths of its many partners from across the microelectronics' ecosystem and industrial value chain," said Ajit Manocha, president and CEO of SEMI. "The project aims to bring greater strategic foresight to the evolution of professions and skills in the industry by applying evidence-based, data-driven success metrics to workforce development."
Expected to begin work in autumn 2023, the academy consortium consists of:
Visit SEMI Global Advocacy to learn more about public policy efforts and developments, andSEMI Workforce Development for more information on efforts to address the microelectronics industry's talent needs.