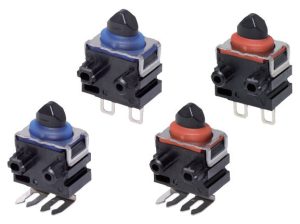 There are four switches in the D2EW range, offering normally-open (blue collar) or normally-closed (red) operation, and solder or press-fit terminals.
All sealed to IP67 against ingress into the interior from all directions, and all have a 8.3 x 5.3 x 7mm body.
"The ultra-small sealed switches eliminate the need for a lever," according to the company.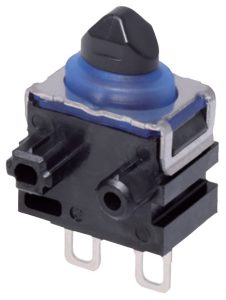 "Their pin plunger shape supports operation from a wide angle between the vertical and the horizontal. This reduces the effect of play in the cam position and improves operating position tolerance. A left-right asymmetric post shape that reduces the risk of incorrect assembly."
The sliding gold-plated contacts can be used down to 50μA (5V), and up to 12V and 100mA with resistive loads (tested at 20°C, 65% RH).
Operation is over -40 to +85°C, up to 95% relative humidity, and can be at velocities up to 500mm/s and at up to 30 operation/minute. At that frequency, predicted life is 300,000 operations – both electrical and mechanical.
Contact operating point is specified within ±0.2mm, and 1.7mm of over-travel is available beyond that.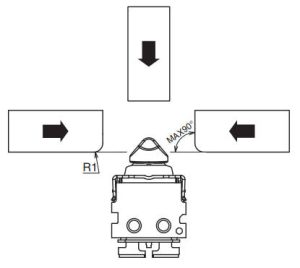 A 1mm radius curve is enough to protect the switch from side-actuation
IP67 rating which makes them suitable for use in wet and dusty environments. "For example, they can be used for detecting the water level in laundry machines and alarm push buttons, as well as eliminating problems with dust or powder locks, card readers and mobile printers", said Omron.
The D2EW product page can be found here, and the data sheet here