Amy J. Born | June 23, 2022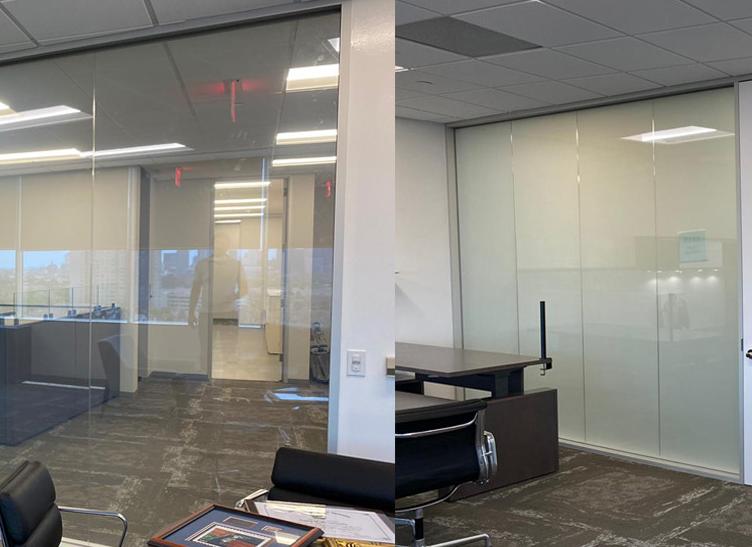 Instant privacy with Smart Film. Source: Smart Glass Technologies
Following two years of remote work for many office employees, Smart Glass Technologies (SGT), a provider of switchable glass and film, looked into ways companies can help their workers feel better about returning to the office. The company found that what employees who have returned to the workplace miss the most is control over their workday environment. Elements such as choice of a workstation, lighting and sound levels and temperature factor in along with flexible hours.
"For today's office workers, it's all about personalization and control," said William Turcan, principal owner at SGT. "Instead of offices, or other fancy perks, what workers really want is better air quality, access to natural light, and the ability to personalize their workspaces. They want to work out of an environment that's best for them. And the only way to do that is to put them in the driver's seat."
Smart film maximizes individual comfort
Smart film has been installed in the windows of various properties across the country, including offices and healthcare facilities. The film can be adjusted from transparent to opaque, with several in-between shades. In addition, it blocks 98% of harmful ultraviolet rays and 95% of infrared radiation, compared to traditional window surfaces.
SGT's Switchable Smart Film has been proven to minimize the impact of external temperature on building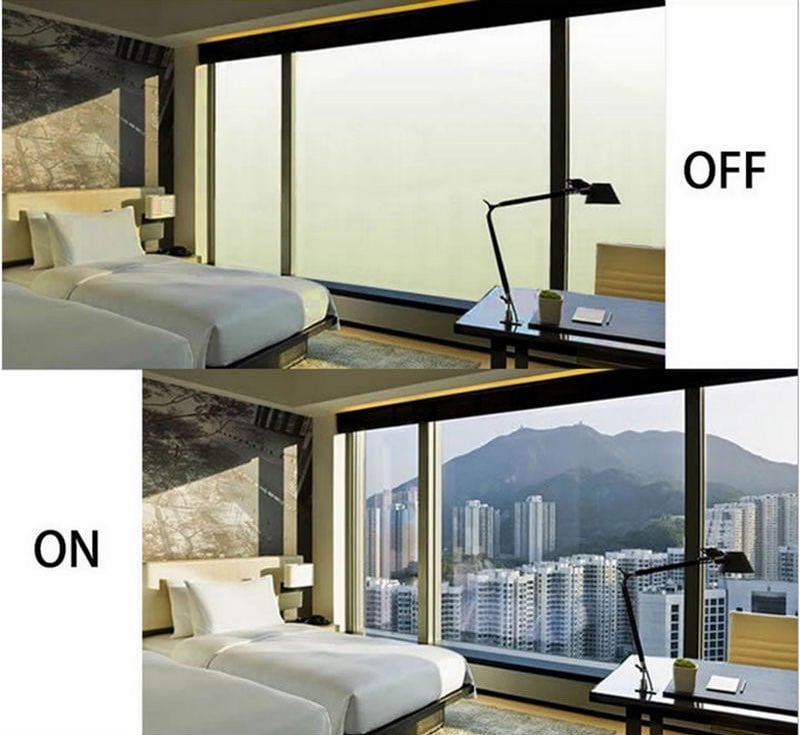 Smart Film can be installed in commercial and residential buildings. Image: Smart Glass Technologies interiors, which saves on heating and cooling costs.
"Once a company installs Smart Film, it has the option to give employees full control of their privacy," said Turcan. "Each window can be adjusted not only through switches and dimmers installed throughout the office, but also through workers' smartphones as well. So, by just unlocking their phone, employees can adjust the brightness of any window near them. The windows can be made opaque to allow for maximum privacy, or employees can choose to make windows more transparent to bring in more natural light. All at the touch of a button."
Smart film can be installed quickly with little or no disruption to a company's day-to-day activities, said Turcan. Allstate Insurance had 200 ft2 of Switchable Smart Film installed in the conference room of its New Jersey office to provide greater privacy and reduce energy costs. The installation took just two days. "And not only does it save energy costs, it's something that catches people's attention. It can certainly be used as a tremendous marketing tool. The Smart Film benefits for companies and organizations are endless," Turcan added.