S. Himmelstein | June 21, 2022
The largest floating solar plant in the southeastern U.S. has been commissioned by the U.S. Army at Fort Bragg in North Carolina. Equipped with a 2 MW battery energy storage system, the 1.1 MW solar facility is the result of a utility energy service contract with Duke Energy and its primary contractor Ameresco.
The floating solar power system, owned and operated by Fort Bragg, was built on the Big Muddy Lake located at Camp Mackall and will supply power to the military installation from the local grid and provide power during electric service outages. The array includes an electronic recloser to reset the system and restore power after events such as a tree limb brushing against a power line.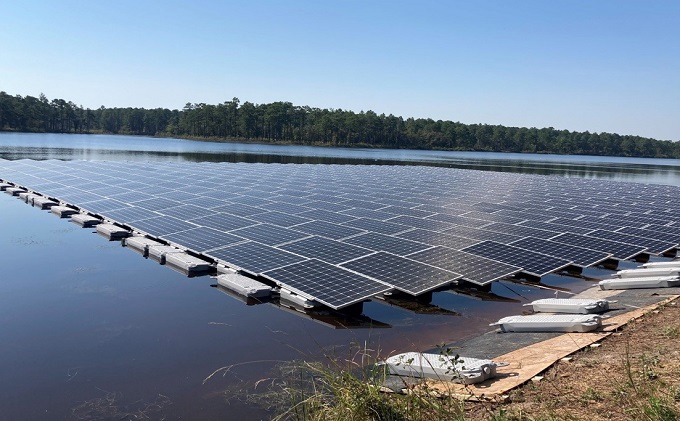 The largest floating photovoltaic system in the southeastern U.S. will provide carbon-free on-site energy at Fort Bragg, North Carolina. Source: U.S. Army
The project is part of the U.S. Army's first climate strategy released earlier in 2022 and intended to halve the military agency's greenhouse gas emissions by 2030 and to attain net-zero emissions by 2050. The strategy is also designed to direct the U.S. Army in how it responds to climate threats that affect soldier readiness, warfighting and installations. In implementing its climate strategy, the agency plans to install a microgrid on all of its installations by 2035 and have a fleet of all-electric vehicles by 2050.