Benefits of Non-contact Thermal Imaging System with LCD
A thermal image (thermographic) is a digital representation of thermal radiation emitted by pictured objects. Thermal image is captured by thermographic camera, which is a device capable of sensing radiation in the form of infrared light. With that, we are able to remotely measure the temperature of an object.
Temperature measurement in public places, is a good assessment to determine whether a person has elevated body temperature, potentially caused by COVID-19 infection. Thus, we could limit the spread of COVID-19.
Non-contact thermal imaging devices can quickly measure and display temperature reading on TFT LCD screen. So, a large number of people can be checked individually and quickly.
Colour LCD screen is easy to clean and disinfect.
The person who handles thermal imaging system is not required to be physically closed to the person being evaluated.
Using thermal imaging device help reduce the risk of spreading COVID-19 infections.
LCD Screen for Thermal Imaging System
An LCD display is a crucial bridge between thermal imaging system and its user.
Provide intuitive information – high-definition TFT LCD display shows precise thermal image and rich useful data.
Suitable for different environments – high brightness, wide viewing angle, weather proof and anti-UV measurement enable TFT display working in both indoor and outdoor settings.
Capacitive touch screen and glass finishing – easy to operate and clean with disinfectant.
3.5 inch colour LCD from Topway is such TFT LCD that fits for handheld thermal imaging device. The screen features 480×320 resolution and 262K colors, can nicely present thermal image in fine details. Very low power consumption and compact in size make it perfect for hand-held thermal imaging application.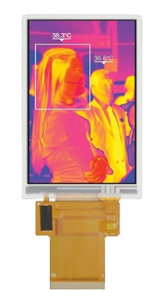 TFT LCD Screen in Post-Pandemic
As we are transitioning out of the epidemic phase, businesses are re-opening. We see more and more information robots deployed across shopping malls, office buildings, transportation hubs, etc. These robots usually have infrared camera and TFT LCD touch screen installed. And they become the first line defence to weed out potential COVID-19 virus carrier. Moreover, the high-definition colour TFT LCD touch screen turns the robot into shopping guide, information desk, and advertising carrier, etc.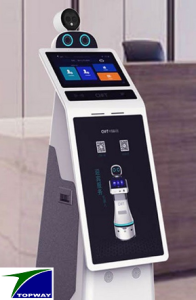 A Smart TFT LCD Display from Topway is perfect for thermal imaging device's screen. Smart TFT LCD display embeds LCD driver, controller and MCU, sets engineer free from tedious UI & touch screen programming. HMT121ATA-D is a 12-inch Smart LCD display module with 1024 x 768 high-definition resolution, multi-touches capacitive touch screen.
Quick and easy GUI implementation with graphical IDE design tool. Thanks to this tool, clients can design all the necessary graphic elements without writing a line of code. And it is very easy to develop HMI based on feedback from end-customers in an agile manner.
Simple serial interface, RS232 or RS485 to provide event notification and LCD display control
Built-in Lua script engine enhances the smart TFT LCD's functionalities and enables rich and friendly user interface construction.
RJ45 supports remote communication and easy expansion, is ideal for IoT application.
Summary
Using touch screen LCD has become a normal practice in modern society. We are very much used to such Human Machine Interface. From cell phone display to thermal imaging system's screen, TFT LCD display is a necessity in our day-to-day lives.
Topway Display: https://www.topwaydisplay.com/en