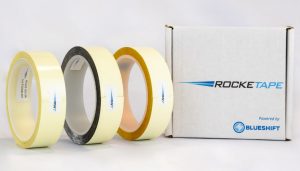 The online distributor has announced it now sells a selection of RockeTape, which it describes as "a one-of-a-kind structured air thermal insulation tape for the world's hottest and coolest spots". This is through its Fulfilled by Digi-Key programme.
The aerogel tape helps protect sensitive components from excessive heat and extreme temperature swings.
The initial products in the RockeTape launch comprise: AZS (AeroZero polyimide aerogel + Silicone Adhesive), GRS (AeroZero polyimide aerogel + Graphite + Silicone Adhesive) and PIS (AeroZero polyimide aerogel + Polyimide + Silicone Adhesive).
Thermal insulation features
The tape bonds to surfaces including plastic, carbon fiber, glass, and metal, and it's flexible to cut to shape and apply on flat and curved surfaces
Other features include:
Very low dielectric constant (RF transparent, 0.004 at 10 GHz)
Flame-retardant rated (UL94 VTM-0)
Electrically non-conductive
Good chemical resistance
"We are always looking for ways to bring the latest advancements of thermal insulation technology to our customers," said Anissa Lauer, senior product manager at Digi-Key. "Blueshift will help Digi-Key penetrate market segments that have a need for an insulative as well as a high temperature tape."
Possible applications include military and aerospace, communications equipment and medical devices.
"Blueshift prides itself on a fast, focused, and flexible approach to thermal protection systems," said Tim Burbey, president of Blueshift. "With our RockeTape launch, we needed a partner capable of matching our passion, commitment, and reach."