Engineering360 News Desk | July 08, 2022
Teledyne FLIR LLC has introduced its SeaFLIR 240 and TacFLIR 240 high-definition multispectral surveillance systems for military and homeland security applications on land and at sea.
These electro-optical surveillance systems each feature a lightweight stabilized turret, HD payload options and inertial navigation capabilities.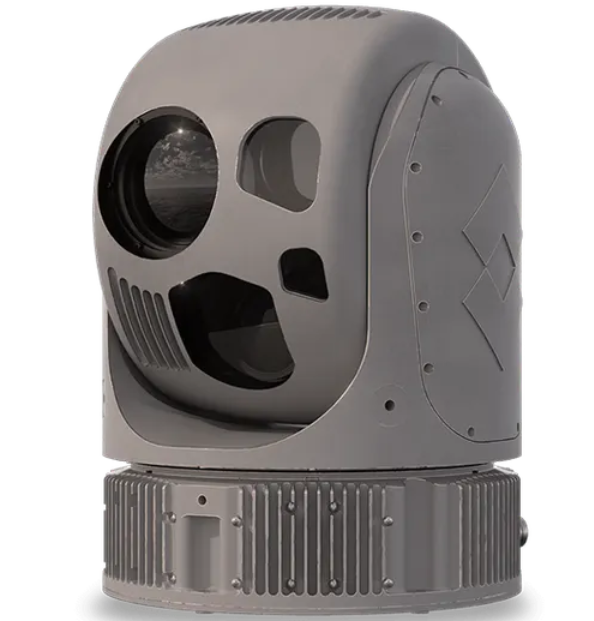 Source: Teledyne FLIR
These integrated sensors offer advanced image-processing and small form factor, and are for U.S. Navy, U.S. Marine Corps and U.S. Coast Guard intelligence, surveillance and reconnaissance (ISR); search and rescue; and special operations aboard combat ships, small boats and unmanned surface vessels.
Designed for both manned and unmanned vehicle use, TacFLIR 240 can identify and track smugglers, terrorists and similar threats during the day or at night, and over tough terrain. The system can support mid-range object and vehicle detection and assessment both for military and homeland security applications.
Key features include multi-sensor capabilities; superior image clarity; detection, recognition and identification capability; and extensible processing control electronics unit.
These sensor systems offer high-definition medium-wave infrared sensors for thermal detection; HD daylight and HD low-light camera options; eye-safe laser range finder and laser pointer; and built-in inertial measurement unit (IMU) and GPS interface.
They offer multispectral dynamic imaging edge detail from color overlay on infrared; and advanced local area processing for detailed imagery in cold or low-contrast environments.
These surveillance sensors also provide range performance for target recognition; advanced video tracking that keeps system locked on target; built-in inertial sensors that provide stabilized imagery and target location accuracy.
The extensible processing control electronics unit provides advanced image processing capabilities, with configurations that include a high-performance central processing unit, graphics-processing unit, and digital video recorder with one terabyte solid-state hard drive supporting H.264 streaming video, plus discrete video outputs, serial interface ports, and specialty protocols like ARINC and MIL-STD-1553.
For more information contact Teledyne FLIR.