Diana Aoun | June 29, 2022
Börger has developed the new ONIXline pump with newly developed rotors as the defining feature. Their advanced geometry together with flow-optimized pump casing ensure the best efficiency even under high pressures. Thanks to its compact design, the ONIXline offers impressive performance with minimal space requirements and has been engineered for high accuracy operation to deliver gentle, practically pulsation-free pumping with maximized efficiency. The large sealing chamber also enables the use of different sealing systems for added versatility.
The ONIXline has been engineered to deliver a high flow rate within a compact, space-saving design. The robust carrier and durable, maintenance-free timing gear combined with precise rotors in a flow-optimized casing ensure the best efficiency even during high pressure operation of up to 16 bar (232 psi).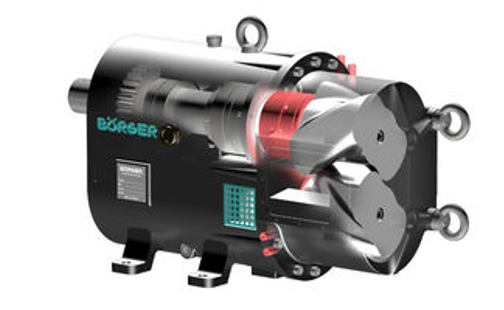 Source: Börger
The large rotor sealing surfaces minimize backflow of the fluid inside the pump chamber, and gentle pumping of the medium is achieved thanks to the flow-optimized inlet and outlet openings. The pump casing is equipped with integrated porting for the seals. A sealing circulation system can be connected via this porting or can alternatively be used for seal flushing or barrier pressurization.
The ONIXline also offers ease of maintenance with the MIP (Maintenance in Place) feature. Access to all wetted parts is provided through the quick-release cover, and wetted parts can be replaced directly at the installation site of the pumps without the need to remove piping and the drive system. For added protection, Börger offers the Variocap — an easy and effective option to install overpressure protection on the pump. Based on a mechanical process, the pump is protected from uncontrolled pressure surges, and reversibility is maintained.
The ONIXline can be used for conveying a wide variety of media in diverse industrial applications and can be easily customized to meet compliance requirements for a range of international standards.