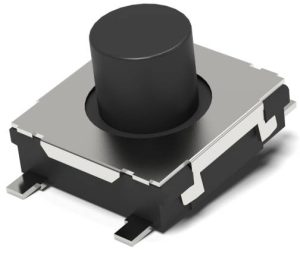 Panasonic is introducing a series of durable thin surface-mount tactile switches for "applications requiring a switch with a short travel distance for extremely quick output", according to the company. "The switches benefit from a low profile height of 4.3mm, a sharp tactile feel, low contact resistance, as well as only a small bounce noise."
By 'thin' the company means that the 6.5 x 6mm switch body is only 1.8mm high including solder tags.
Called the EVP-BT, they come in J-tag or stuck-out tag (photo) mounting versions, with or without a grounding tag, and an operating life of up to two million cycles. There are "a total of 28 part numbers, to accommodate many different push forces and vibration specs", it said.
Operating travel is 0.2mm in 0.5, 0.8 and 1N force versions, and 0.25mm in 1.3, 1.6, 2.6 and 3.5N versions – over-travel is not provided.
Expected life is lower in higher force versions, from the two million cycles minimum mentioned above for 0.5 and 0.8N types, to 100,000 cycles for 3.5N types.
So confident it the company in durability, that it proposes them as suitable for mouse and game pad use.
The contacts are rated to work between 10µA 2Vdc and 20mA 15Vdc with resistive loads, and maximum contact resistance is 100mΩ – with 10ms maximum bounce time either on or off.
A product page shared with other switches can be found here, or a slightly better-focused data sheet can be downloaded by clicking here.
—