S. Himmelstein | June 24, 2022
It may be the smallest state in the U.S., but Rhode Island has big plans for renewable energy use. The state legislature has approved a bill that will commit the state to procure 100% of its electricity from renewable energy sources by 2033. If signed into law, as is expected, by the governor, Rhode Island will have the nation's fastest timeline for a 100% renewables procurement.
The bill institutes annual increases in the state's 2007-instituted Renewable Energy Standard (RES) and requires utilities to purchase renewable energy certificates representing a certain percentage of the power they sell annually. While the RES does not guarantee that the actual energy used in Rhode Island came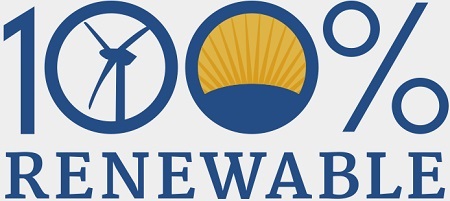 Source: 350.org from a renewable source, nor does it prohibit any utilities from supplying energy generated by fossil fuel, it does result in the generation of a corresponding amount of renewable energy in the region and encourages construction of renewable projects.
The RES is currently set at 19% of the retail electricity suppliers sell in Rhode Island, with the percentage set to increase by 1.5% annually through 2035. The new bill increases the targets more aggressively and mandates an additional 4% increase in 2023; 5% in 2024; 6% in 2025; 7% in 2026 and 2027; 7.5% in 2028; 8% in 2029, 8.5% in 2030, 9% in 2031 and 9.5% in 2032 to achieve the goal of 100% of Rhode Island's electricity demand being offset by renewable energy by 2033 and thereafter.
According to the U.S. Energy Information Administration, in 2020 about 89% of Rhode Island electricity was generated by natural gas, with most of the remainder coming from solar, wind and biomass resources.