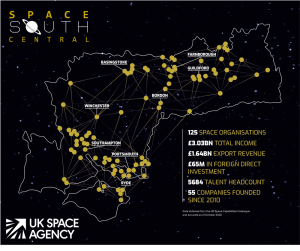 The money will support Space South Central's aims to promote collaboration and champion space-related business and R&D across Hampshire, Surrey and the Isle of Wight.
According to Space South Central the region accounts for an estimated £3 billion of national space industry turnover, with 5,600 people working in the space sector. The companies involved include BAE Systems, Airbus Defence and Space, In-Space Missions and SSTL.
"We have a long-standing commitment to driving the growth of the UK space sector at a regional level and are delighted to continue our support for the delivery of this investment, with our focus on building a coherent space community," said Stuart Martin, Chief Executive Officer at the UK Space Agency's delivery partner, the Satellite Applications Catapult.
Three universities are part of the region: the University of Portsmouth's Institute of Cosmology and Gravitation, the University of Southampton's Space at Southampton, and Surrey Space Centre at the University of Surrey.
"The fact that £1.2 million of the total £6.5 million of UK Space Agency funding was awarded to the south-central region is a testament to the extensive space expertise and world-leading businesses based here," said Professor Adrian Hopgood, Director of the SCCoE and Professor of Intelligent Systems at the University of Portsmouth.

"This investment will help Space South Central build on the legacy of the SCCoE to grow the region's space sector, harnessing its diverse expertise, developing stronger partnerships and growing its national and international reputation."
Recipients
Other recipients of the funding include the University of Surrey. It will receive an award of £406,000 to develop its proposed SpaceCraft project. This will offer training and open up engineering facilities and technical expertise to local companies, enabling high-quality space prototyping and manufacturing.
The Science and Technology Council's RAL Chilbolton Advanced Satellite Tracking Radar in Hampshire will also receive £485,000 towards upgrades. Space South Central writes:
"One of three national sensors, it can detect space objects about the size of a toaster at an altitude of 1,000 km and provides crucial data for satellite tracking operations. The funding will provide upgrades to improve reliability and robustness of the sensor and maintain a key sovereign asset."
You can read about the UK Space Agency funding of other regions here.
See also: Surrey and Hampshire team-up to dominate UK space industry