Engineering360 News Desk | July 11, 2022
Comau and Seabery have joined forces to create an innovative educational training program for students and workers that allows them to practice the skills needed to become proficient and certified robotic welders. The comprehensive and scalable solution is designed to help fulfill the global demand for expert welding professionals.
Industry 4.0 automation is increasing the level of skills required by welding professionals, yet robotic welding training is seldom offered at traditional welding training institutions or vocational training centers. Furthermore, a standardized robotic welding training curriculum does not currently exist. Traditional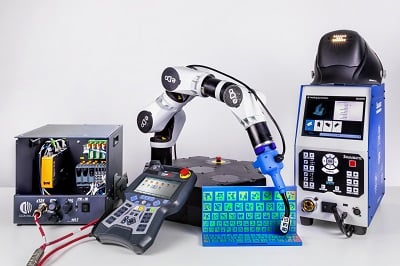 Source: Comau welding training and practice is also costly, time consuming and requires dedicated safety equipment. To meet these challenges, Comau and Seabery now offer a modern and state-of-the-art training method created with the Soldamatic welding simulator and the customizable, flexible, and scalable e.DO educational robot whose programmable settings respond to nearly any professional and educational requirement.
The new solution is highly efficient as it allows unlimited practice via a simulated training program that utilizes augmented reality technology to reproduce a real-life robotic welding environment. It includes a programmable teach pendant and features hundreds of welding procedures and positions to comprehensively train robot operators. The Soldamatic simulator exclusively offers Hyperreal-SIMTM, a proprietary technology owned by Seabery, which is a multi-sensory training interface, including sight, sound and touch with a highly-calibrated and parameterized system, which creates the most realistic welding training experience aside from actual welding.​
Available immediately as a stand-alone training program or as part of Comau's comprehensive e.DO offering, the new solution is perfect for any educational institution​ with a flexible curriculum and a cloud-based interface. It is well-suited for on-the-job upskilling as it can be programmed for nearly every welding procedure specification, allows the use of advanced welding joints and creates robotic welding simulations for nearly any position. As such, the Soldamatic and e.DO solution promises to be a milestone in proliferating robotics welding training, an accelerant to Industry 4.0 and a progressive step to fulfill the global gap in skilled manual labor.