Engineering360 News Desk | July 11, 2022
WIDIA has added an AL Geometry insert to its ISO turning portfolio, strengthening its broad offering of affordable tooling solutions for small to medium sized machine shops machining aluminum and non-ferrous materials. The AL Geometry insert is offered in two grades for increased machining versatility: an uncoated microfine carbide WU10HT grade and the physical vapor deposition/aluminum titanium nitride coated grade, WU05PT. Each grade is available in all popular styles, including C, D, R, T and V inserts to increase customer tooling options.
In addition to enhanced product versatility from multiple grade and style offerings, the AL Geometry insert offers additional benefits. A highly polished rake face improves chip flow, resulting in shorter set up times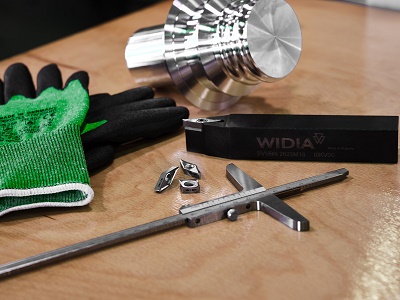 Source: WIDIA due to less manual retrieval of chips following each cut. The periphery ground insert also features a sharper cutting edge to increase overall tooling precision and reduce cutting forces. Reliable tooling performances means customers can dedicate more time to machining and less time to post-machining deburring operations because of the reduction in built-up edge.
"The AL Geometry portfolio offers tooling versatility when machining different components and workpieces, while also providing more precise and reliable machining performance," said Anil Kumar, WIDIA global turning portfolio manager. "By focusing on both tooling performance and value, we're helping our customers maximize their return on our products."
Versatile, reliable and cost-effective, the AL Geometry is the universal solution for customers seeking lower cutting forces, extended tool life and greater tooling productivity when machining a variety of non-ferrous workpiece materials, particularly aluminum. Orders for new AL inserts and other WIDIA metal cutting tooling can be placed through any WIDIA authorized distribution partner.