The SYN43711 explicitly targets use cases that demand superior Wi-Fi throughput and range with seamless network interoperability.
The device is a single-stream (1×1, 600 Mbps) device that complements Synaptics' dual-stream (2×2, 1200 Mbps) SYN43756E and  Triple Combo (SYN438x series).
Innovations include support for Wi-Fi Sensing, using a proprietary algorithm to analyse Channel State Information (CSI).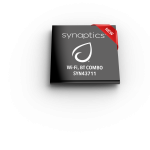 The algorithm allows any Wi-Fi-connected embedded device to detect the presence of humans, estimate their motion, approximate their location, and sense subtle gestures and movements, like breathing.
 The SYN43711 operates in the 2.4, 5, and 6 GHz bands and features Synaptics' Smart Co-Ex technology forunmatched Wi-Fi/Bluetooth coexistence.
It is IEEE 802.11ax compliant and supports Bluetooth 5.3 with LE Audio for multiple concurrent Bluetooth connections andaudio streams, including AuracastTM. A shared Wi-Fi and Bluetooth receive signal path eliminates the need for an external RF switch while maintaining high sensitivity.
The SYN43711 is available in the two most widely used WLBGA packages: standard and plated-through-hole (PTH) compatible. PTH lowers PCB implementation costs.
Synaptics' SYN43711 is sampling to key customers now, with production quantities available in Q1, 2024.
For more: product info