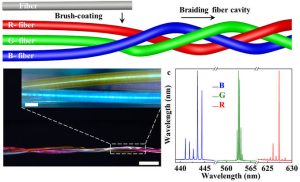 Beijing University of Technology has created red-green-blue lasing using three optical fibres coated with dye-doped polymer.
Each whispering gallery fibre supports multiple lasing modes, with their colour defined by brushing on dye-doped polymer ink.
Before weaving together, each fibre has a lower excitation threshold of 19.1μJ/cm2, narrowest spectral line width of 0.045nm and Q (quality factor) of 104, according to the researchers, who obtain seven lasing spectra (see diagram) including blue, green and red, G+B, R+B, R+G and R+G+B.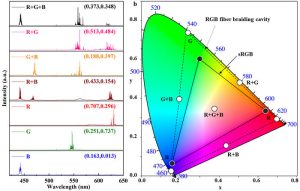 "The lasing emissions cover a colour gamut 86.7 % larger than the sRGB space, showing great potential in compact white sources and laser display devices," according to the university.
'RGB WGM lasing woven in fiber braiding cavity', published by Springer, describes the work – payment required for full access.