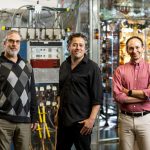 Zap has a technology to confine and compress plasma called sheared-flow-stabilized Z pinch which is claimed to be simpler than other approaches.
"Z pinch has long been an appealing way to achieve nuclear fusion, but for many years researchers considered Z-pinch's plasma instabilities to be an insurmountable challenge," says Zap co-founder Uri Shumlak (pictured between co-founders Brian Nelson [L] and Benj Conway [R]) "we've shown through both simulation and experiment that sheared flows can stabilize fusion plasmas, and that the stability should extend to a commercially viable scale."
The company is now increasing the current which runs through the plasma to reach a point where, hopefully, the energy coming out is greater than that going in.
Zap reckons it needs to produce 650kA  of current to get to he point where it is generating more energy than it uses. At the moment it is producing  500kA.
Zap is also building a supercapacitor bank that will be capable of generating pulses of electricity reaching 1,000 kA.
The  technology was developed at the University of Washington  with collaborators from Lawrence Livermore National Laboratory. Founded in 2017, Zap now has over 60 employees based in Seattle, Everett and Mukilteo, Washington.
Zap had a $27.5 million Series B in May 2021. Investors in its latest $160 million Series C round were: Lowercarbon Capital, Breakthrough Energy Ventures (a Bill Gates fund), Shell Ventures, DCVC and Valor Equity Partners, Addition, Energy Impact Partners (EIP) and Chevron Technology Ventures.